About Deco Workroom
Design Services & Workroom
Handmade in Boulder, CO.  Nancy Le Couteur Knapp is your home furnishing specialist.  I offer a superior service because of my hands-on approach & commitment to a product that meets your individual needs.
•    Design Services:  Take advantage of my complimentary, in-home design consultation.  Browse fabric, hardware, foam, and so much more.  Free estimates.  15+ years experience.
•    Drapery & Upholstery Workroom:  I operate my own workroom and do the majority of the sewing on all projects.  Knowing my limitations, I have a lots of contractors and artist that help bring your vision to reality.
•    Install:  Yes – I even install the finished product.  Insured up to $100,000.
Trade Partners
I love my interior designers and trade partners!
Here are some of the perks:
•    Expedited processing to accommodate deadlines.
•    Easy access to South Boulder workroom for design consultations.
•    Receive 20% off fabric, trim, hardware, and blind purchases.
History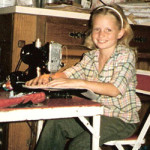 Being a farm-girl from Pennsylvania, sewing was a rite of passage. Thankfully, I had a mother that sparked and nurtured my passion for the art.   During my teens I make lots of things including 2 prom dresses. The sewing machine even followed me to college where I was notorious for making Halloween costumes and yes – even curtains.
College… I have a degree in Human Foods and Nutrition from West Virginia University. This degree is largely a result of my athletic scholarship in cross country & track.  Sports remain an important part of my life.
Starting in 2001, my career as a seamstress began, aka, crash course in professional sewing. Life then took me to New Zealand where I mentored under interior designer and home furnishings specialist, Ruth Robson.  By 2005, I returned to Boulder and started the business you see today.
Deco Accessories is my latest business venture that is re-inventing the tab top curtain.  Visit my online store to customize your tabs!  Complete collection including trim, tiebacks and hardware.